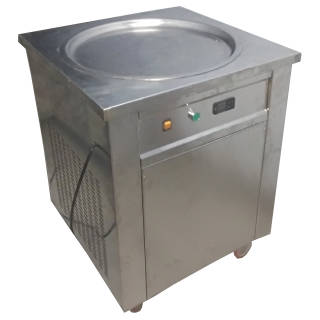 Ice cream roll machine are now very popular. It is also called tawa ice cream machine or fried ice cream machine. The trend started in Thailand. Now it is popular world wide.
Quickcream is brand of ice cream roll machine by Hindchef. Our machines are sold all over the world.
Our tawa ice cream machines are tested to work at summer temperatures.
Send Enquiry
Call/Whatsapp: 9312667788
---
Ice cream roll machine models
You can click the image to view the description.
---
Features of our Ice cream roll machine
Efficient Cooling: Our machines are designed to use optimal amount of cooling capacity of the system. This result lowest electricity consumption, save 40 to 50% electricity bill.
Fast Starting: Our fried ice cream machines are designed to cool under 90 seconds. Now you don't have to wait for 10 minutes. This also help in saving power as it is not necessary to keep the machine running when there are less customer.
Aesthetically designed: Most of our ice cream roll machine body are made using CNC laser cutting and CNC bending. CNC machine cut and bend precisely. This improves looks of the  machine.
European  standard equipment
 Uniform Cooling: Cooling pipe is  soldered in tight bend to pan to ensure uniform cooling transfer. This make temperature over the pan more uniform. It is very easy to make roll when temperature is uniform.
Defrost: All ice cream roll machine models are equipped with defrost. Hot gas defrost takes 10 to 20 seconds to defrost full. Defrost makes cleaning and rolling easy.  This feature in ice cream roll machine to quickly raise the freezing pan temperature for brief moment. This feature is required to effectively clean the pan very quickly. This feature can also be used when ice cream material has stick on the pan due to slow scrapping. The defrost can be engaged in machines using a foot paddle or a button. When this button is pressed the condensation process is bypassed and high pressure and high temperature refrigerant directly circulate in copper tube below the freezing pan. This feature quickly raises the temperature. The bypass processes is stopped as soon as  defrost paddle or button is released.
High compressor Life:  Liquid refrigerant entry in to compressor is number 1 cause of  compressor damage. Our machine uses a digitally controlled mechanism to prevent liquid refrigerant entering in compressor.
Think Pan: 3 mm Pan thickness improves cooling uniformity and increases durability.
Add on with ice cream roll machine
Free Training: Free training for making ice cream rolls when you purchase machine from us. During the training we will make sure you learn making ice cream rolls properly.
Free pair of scrapper with all ice cream roll machines
Suggest relevant products like, waffle machine, blenders for shakes and others. You can buy waffle machine online from our website.
Premix Powder: Affordable ice cream roll premix available in 3 flavours.
Expert trainers: Expert trainers (on payment basis) also available for hassle free starting of your outlet. These trainers can work with you for 15 to 30 days to help setup your outlet.
You can buy ice cream roll machine online.
---
Ice cream roll Franchise
With  quickcream you have option to buy ice cream roll machine and premix. Alternatively you can go for franchise. In franchise we shall help you setup your store, help in prepration of menu and training of staff. There are many type of franchise option. You can see more at franchise of ice cream rolls page.
---
Training for making ice cream rolls

We provide training for making of base cream using premix, ice cream roll making techniques and recipes. Training is available in Bangalore, Goa, Kolkata and Mumbai on chargeable basis. We have sold machines in following states Delhi, Haryana, Rajasthan, Punjab, Maharastra, Chhatisgarh, Goa, Karnataka, Kerala, AP and UP.  We provide training and help in setting up kiosk/ice cream parlour.
Onsite Trainer: We can provide you with onsite chef for ice cream roll machine. This facility is based on chargeable bases for 1 week to one month period. The trainer can help you start your store along with add on items like waffles, shakes and others.
---
Ice cream roll popularity
The concept of roll ice cream or fried ice cream have gone viral throughout the world. Here are some reasons which we thing why it is gaining popularity worldwide.
Freshness: Fresh fruits and cookies are mixed on frozen pan at -20ºC, The ingredients are chopped using special spatulas called scrapper. The ice-cream will be made in front of the customer which gives them extra surety of freshness. The whole process is very appealing to the customer. You will definitely see a smile on face of your customer while you serve roll ice cream.
Speed: With a single pan machine, an expert chef can make 30 large and 45 medium fried ice-cream per hour. It just takes 90 seconds to 2 minutes to make a fresh fried ice-cream. With the double pan option, this speed will be double.
Premium food: You can easily sell the fried ice-cream made using this machine at Rs. 100 for small size and Rs. 150 for large size in an outlet and food court. Checkout the below graph to know what is typical starting price for ice cream rolls.
The material cost of ice cream roll is not so high. We have developed a calculator to compute material cost of ice cream roll.
Add eliteness: This product will surely add eliteness to your restaurant or hotel. The presentation and sound of making ice cream on pan is definitely very professional in eyes of customers.
Checkout state wise popularity of ice cream roll machine. The graph shows number of roll ice cream machine sold by us in different states of India in 2017.
This shows that roll ice cream machine is most popular in Karnataka, Delhi, Maharastra and Tamil Naidu. City wise it is most popular in Bangalore, Delhi NCR, Mumbai, Chennai, Pune. However it is gaining popularity even in remote area of India.
---
Popular names of ice cream roll machine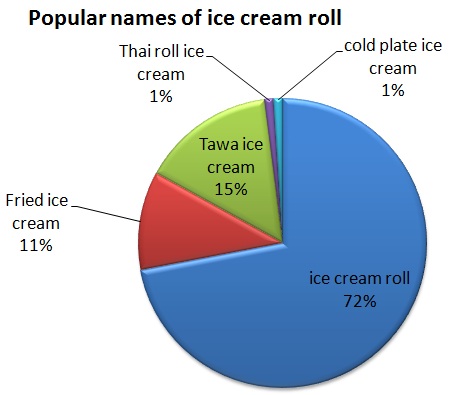 Tawa Ice cream Machine
Tawa Ice cream machine or 'ice cream tawa' word is famous in Gujarat and Maharastra. Many ice cream vendors are using this name in cities of Gujarat. Tawa is a word for Pan in many Indian languages, hence the name 'Tawa Ice cream' is popular in some of the Indian states. Many ice cream parlour also have named their outlets using the word 'Tawa ice cream'.
Ice Cream Rolling Machine
This is correct descriptive name for fried ice cream machine, so Ice cream roll machine is common name now. This is generalized name which seems to have been drives from other common names.
Roll Ice cream Maker
This is the name which comes first in someone minds when someone see this machine for the first time. The name 'Roll Ice cream maker' is generally less used nowadays. The Roll ice cream maker is also used for now obsolete traditional ice cream machine which uses a cylindrical drum filled with ice to make ice cream.
Thai roll Ice cream machine
Pan ice cream machines started in year 2000. Originally it was named as stir fried ice cream in Thailand. However it don't get instantly popular. The roll ice cream machine started getting popular in year 2013 in Thailand. As Thailand is a popular tourist destination it become popular world wide from there. Most of our initial customer have seen pan ice cream machine in Thailand. This is the reason that many people call it Thai roll ice cream machine. Now product have become popular in USA, India and middle east.
Cold plate ice cream machine
Since this machine is technically similar to cold stone ice cream machine. Only cold top is made of steel plate in place of marble, some people also call roll ice cream machine as cold plate ice cream machine.
---
Add on products
---
All India delivery: We supply our ice cream roll machines all over India. Delivery charges are highly reasonable.
To know more about features whatsapp us or send an enquiry now.
Send Enquiry
Call/Whatsapp: 9312667788
---
---
About Quickcream
Hindchef is company owning Quickcream. We are manufacturer of restaurant machinery. We focus on manufacturing high quality and beautiful kitchen equipment. Our company deals in many innovative products, like swirl  ice cream machine, nitrogen ice cream, pizza cone etc. If you have any further query you can check frequently asked question about fried ice cream machine or you can reach is on phone, query or emailSend Enquiry