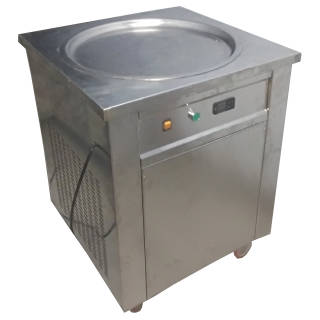 Ice cream roll machine are now very popular. It is also called tawa ice cream machine or fried ice cream machine. The trend started in Thailand. Now it is popular world wide.
Quickcream is brand of ice cream roll machine by Hindchef. Our machines are sold all over the world.
Our tawa ice cream machines are tested to work at summer temperatures.
Send Enquiry
Call/Whatsapp: 9312667788
---
Ice cream roll machine models
You can click the image to view the description.
---
To know more about features whatsapp us or send an enquiry now.
Send Enquiry
Call/Whatsapp: 9312667788
Ice cream roll machine video
---
About Quickcream
Hindchef is company owning Quickcream. We are manufacturer of restaurant machinery. We focus on manufacturing high quality and beautiful kitchen equipment. Our company deals in many innovative products, like swirl  ice cream machine, nitrogen ice cream, pizza cone etc. If you have any further query you can check frequently asked question about fried ice cream machine or you can reach is on phone, query or emailSend Enquiry