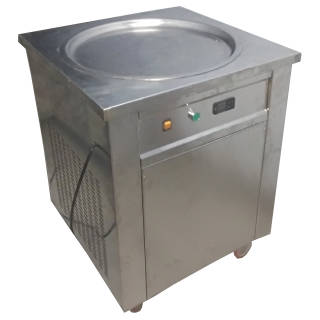 Ice cream roll machine are now very popular. It is also called tawa ice cream machine or fried ice cream machine. The trend started in Thailand. Now it is popular world wide.
Quickcream is brand of ice cream roll machine by Hindchef Pvt. Ltd.. Our machines are sold all over the world.
Our tawa ice cream machines are tested to work at summer temperatures.
Send Enquiry
Call/Whatsapp: 9312667788
---
Models of ice cream roll machine
You can click the image to view the description.
---
To know more about features whatsapp us or send an enquiry now.
Send Enquiry
Call/Whatsapp: 9312667788
---
Ice cream roll machine price
Price of ice cream roll machine depend on following
Size of pan and number of pans
Number of cooling containers for toppings
Under counter refrigerator
The price also depend on delivery location. If delivery location is within India GST of 18% is applicable.
For export of ice cream roll machine out of India GST is not applicable.
---
Training for using ice cream roll machine
We provide training for using fried ice cream roll machine. The training include following
Usage of machine.
Making ice cream rolls.
Creating various menu items, garnishing and serving.
The training is available free of cost for our customer at our location in New Delhi. Onsite training is provided on chargeable basis all over India. Our training is sufficient to start an ice cream parlor.
In case you need extended training like more than a week, we can provide chef at your location for 2 to 3 weeks. This will help you start quickly and staff training would be very easy.
---
Premix for ice cream roll
We manufacture ice cream roll premix. The premix is available in various flavors. It is very convenient to use. It require adding cold mix to premix (1 kg premix powder and 4 liter full cream milk). The base is ready immediately to make ice cream.
Using premix gives very rich and consistent taste. It also saves lot of time and labour cost.
Following are advantages of using ice cream roll premix.
It gives smooth and consistent taste
Easy and very convenient to prepare
Save lot of time and effort
Remove chances of mistakes as it has very simple procedure
Cost effective
---
Ice cream roll machine video
---
About Quickcream
Hindchef Pvt. Ltd. is company owning Quickcream. We are manufacturer of restaurant machinery. We focus on manufacturing high quality and beautiful kitchen equipment. Our company deals in many innovative products, like swirl  ice cream machine, nitrogen ice cream, pizza cone etc. If you have any further query you can check frequently asked question about fried ice cream machine or you can reach is on phone, query or email.